« March 2011 | Main | May 2011 »
April 30, 2011
Reporting on Employees Who Clock In Late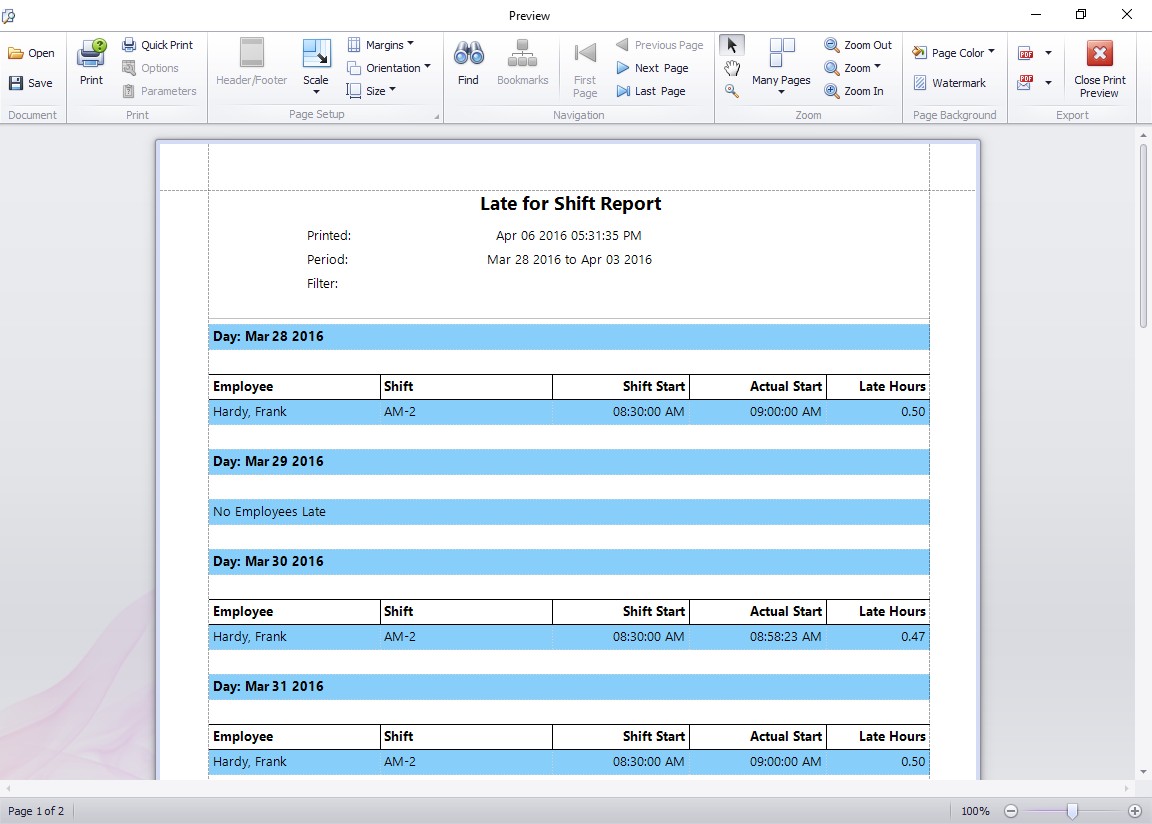 The Late for Shift Report
The recent release of Version 3.1.5 of Time Clock MTS included a new report that allows users to easily run a report displaying employees that have clocked in late for their shift. The output of this report can be seen above. Here's how to setup Time Clock MTS to allow you to use this report to track when your employees are clocking in late for their shifts.
For each different shift start time you need to track you'll need to create a shift in Time Clock MTS. You can do this on the Manage Shifts Screen. Made sure to set the shift start time to the time that you want to track.
Assign each employee to the shift that they work. You can do this on the Manage Employees Screen
Have your employees clock in and out using Time Clock MTS as normal.
Run the Late for Shift report on the Report Configuration Screen. The report can be run over one or many days, and run for one or many employees.
You can now interpret the report. It will give you a day by day list of the employees that have clocked in late for their shift. Each employee late arrival will be displayed along with the employee name, their shift name, the scheduled shift start, their actual arrival time, and the amount of time that they were late.
Posted by By Mark Nemtsas at 1:10 PM | Comments (0)
---
Time Clock MTS Version 3.1.5 Released
Version 3.1.5 of Time Clock MTS has just been uploaded. This new release fixes up a couple minor bugs, adds a new report, and tweaks a couple of other things. Here's exactly what's changed:
Added the Late for Shift Report, this will be the subject of a later blog entry.
Added an employee tip total row to the Employee Tip Summary report.
The "Job:" label displayed in the last action text for an employee can now be changed on the Interface Settings Screen (as can most other labels on the main time clock screen).
Fixed up the Export to Excel functionality to stop non-printable characters being put into exported reports.
Fixed up the Payroll Summary Report that sometimes actually wouldn't export the payroll summary infomation!
Posted by By Mark Nemtsas at 12:42 PM | Comments (0)
---
A Users Questions Answered
I just received a rather lengthy email from a potential Time Clock MTS user. They've spent some time considering their questions so I thought it only fair to take some time to consider my answers and I've decided that they can be posted up on the blog for everyone to read.
1. Installation fee per server?
No, fees are by the number of administrator computers you require and the client computers you require. Administrator computers are used to configure the software and run reports and client computers are just used to clock in and out.
2. Are there regular "required" upgrades?
No, there are no required upgrades. We do release new versions of the software once or twice a month and upgrading is entirely optional.

3. Is there a fee with each upgrade?
You get one year of free upgrades with your purchase (within the same major release number). You can continue getting upgrades after this first year is up for a fee of 25% of your initial purchase price per year. Again this is entirely optional and you can keep using your software whether you pay this fee or not.
4. Can we have One Server but Employee's can use from any computer?
Yes. Take a look at our network time clock page to understand how this would work.
5. Can administration be done on another computer besides the Server?
Yes, the administrator software doesn't have to be on the same computer that the database is one.
5.1 Assuming YES to the last question, could administration be done from a home computer with office access?
Only via some sort of remote login software like PC Anywhere or Log Me In.
6. How does administration set up Employee's in system?
Via the employee management interface, you can take a look at the help topic which should help: Managing Employees
7. Briefly, what are some of the administration features?
Adding/editing/deleting employees, managing employee times, creating tracked jobs, creating sick and vacation accrual times, running various reports.
8. How do employee's time in and out?
They can clock in and out in two ways. Either by selecting their name from a list of employees and clicking a clock in/out button or by entering their employee ID number via a keyboard and pressing the enter button to clock in or out. They can also use a barcode swipe or a mag card swipe.
9. How is time corrected? Can Employee correct their own time?
Employees cannot correct their own times. Administrators do it via the Edit Times screen.
10. Can an Employee request time off using the time clock system assuming we can have one server with time clocks at each computer?
No, there's no system to do this.
11. Can a manager approve Employee's time directly from the time clock system from their own computer?
There's no time off approval system.
12. How does the time clock track Holiday Pay?
There's a system to create one-off and recurring holidays. Employees can be set individually to either receive or not receive holiday pay. Take a look at the Time Clock MTS Holidays topic for more information.
13. Can the time clock accrue or calculate earned vacation and sick time?
Yes. You should take a look at our articles on Setting Up Vacation Accruals, Setting Up Sick Time Accruals, and Recording Sick and Vacation Time.
14. Some Employee's have more vacation time than others. Can the system manage this?
Yes, you can have as many different accrual schemes as you like.
15. Currently, vacation and sick time is given at anniversary dates, (not annually at start of year) can the system handle this?
Yes, you just need to make sure to check the "Use Hire Date not Fiscal Year" checkbox when you're setting up your sick and vacation time accruals.
16. Can the time clock calculate used vacation and sick time?
Yes, see the link above about recording sick and vacation time.
17. Would Exempt and Non-Exempt Employee's both use the time clock so system can calculate earned and used vacation and sick?
Yes, they can both use the system.
18. Can Time Clock information be interfaced with Payroll Company's system, so we could transmit pay period information?
No, not at present.
Posted by By Mark Nemtsas at 8:14 AM | Comments (0)
---
April 28, 2011
Employee Attendance Database
Before I started work on Time Clock MTS I'd worked at many different companies who thought that building a simple employee attendance database in preference to using paper time cards would save them a lot of time and money. Of course, when comparing the on-going costs of using a well-executed employee attendance database to those of using paper time cards these companies were exactly correct. They could justifiably expect to save time in the area of employee attendance data collection, save significant time in the processing of this data, and ideally good improvements in the reporting of employee attendance. Not only would improvements be seen in the actual labor expended but also, in the timeliness of data collection and reporting. This is because there'd be no more chasing up late timesheets from uncooperative employees by a harried payroll staff member.
These same companies also believed that they had unique requirements which meant that an off the shelf employee attendance software solution wouldn't work for them. So in several cases I was engaged to develop a custom software solution knowing that in many cases their 'unique' requirements were no different to what many other companies required. The end result was that the on-going cost savings that an employee attendance database delivered were offset against high initial development costs. Thus a much longer time was required before a company saw a positive return on their software investment. In most cases they "unique" requirements of each company turned out to be just naming conventions, or reporting formats or report cycles, or the requirement to track (what turned out to be) fairly minor additional data or information along with normal employee attendance data.
After having been through this development process several times I resolved to build Time Clock MTS, a program that would deliver a simple feature set to allow for tracking of employee time and attendance data. The features would be broad enough to make the software suitable to a wide range of businesses of varying size. There would also be a degree of customization available within the software in targeted areas to allow companies to change it to suit what they believed were largely unique requirements. This has proven to be successful, with more than 10,000 companies currently using Time Clock MTS. These companies have from 1 to 1,000 employees and come from many different (and seemingly un-related) industry segments. As I expected, the time and attendance tracking requirements of most businesses are are similar enough that Time Clock MTS can be used to track their employee attendance without the need for a custom software solution for each company.
If it turns out that your company is considering developing a custom employee attendance database to suit what you believe are you own set of unique requirements then you'll probably want to think long and hard before doing so. You might find yourself wasting hundreds of hours and months of elapsed time on a task that amounts to little more than re-inventing the employee attendance database wheel. Instead of doing this consider that a time clock system like Time Clock MTS can deliver on all or almost all of your requirements in one easy to use package for under $100. Why not download free 30 day trial of Time Clock MTS and you will find that it can meet your employee attendance tracking needs.

Posted by By Mark Nemtsas at 9:59 AM | Comments (0)
---
Class Attendance Software
It's probably no great surprise that after more than 5 years of development and being used by several thousand companies in more than 60 countries that Time Clock MTS has been used in some unusual ways. One interesting application that I am aware of is using it as Class Attendance Software in vocational education classes. One user in particular was running a vocational metal working class and wanted his students to experience a 'work like' atmosphere during the class. This included using Time Clock MTS to clock in at the start of the class and clock out at the end of the class. The class teacher carried through the idea of a 'work' environment by issuing a virtual payroll, having scheduled break times, and even using Time Clock MTS to track vacation time and < a href="/articles/sick-leave-accruals.htm">track sick time.
It's a fairly simple matter to setup Time Clock MTS to be used as class attendance software. Multiple classes could be tracked by displaying the student list in department folders, projects worked on by students during class could be tracked with the job tracking features, and the user interface could be modified to suit the school environment on the Interface Settings screen. Reports like the employee status report can easily be used to see what students are present at the class, or the job time report could be used to determine how much time students have spent working on particular projects or tasks.
In conclusion I'd like to say that while Time Clock MTS wasn't designed specifically as class attendance software it can (and is) certainly able to be used as such. Modifying the user interface makes it a little easier for students to digest, and in the specific example I gave above it will give students in the class situation a taste of what a real work situation is like.
Posted by By Mark Nemtsas at 9:55 AM | Comments (0)
---
April 22, 2011
You cannot currently clock in as synchronization with the Internet Time Server Has Failed
If you make use of the security feature in Time Clock MTS that allows you to use an internet time server to set the time that Time Clock MTS uses then very occasionally you might get this error message:
You cannot currently clock in as synchronization with the Internet Time Server has failed at startup or for at least 1 hour after startup. Re-start the software to try to synchronize again or talk to your Time Clock MTS administrator.
In simple terms this message means that Time Clock MTS has been unable to connect to your selected time server for a period of time and for security reasons has prevented employees from clocking in or out. The cause of this error is usually one of two things. The first is that you've just got a temporary network problem and given a bit of time the issue will resolve itself. The second reason is that the time server you've chosen for Time Clock MTS to synchronize itself to is either experiencing extreme load or has been disabled completely. Here's a couple of things to try if you believe your message is due to the second reason:
1. Try connecting to our own dedicated internet time server instead of a third party server. We're committed to maintaining this time server so you're assured it will always be available.
2. Rather than using Time Clock MTS to get a time from an internet time server use Windows itself to do this and then lock down the Windows permissions to prevent users from just manually changing the system time. To learn how to do this take a look at our blog entry covering what to do when the internet time server doesn't work.
Posted by By Mark Nemtsas at 9:49 AM | Comments (0)
---
Free Attendance Software Download
If you're running a very small business you're probably looking for a cheap and easy way to track your employee attendance. Better still you're probably wanting a free way of tracking employee attendance. Ideally the free method of tracking your employee hours would be accurate, easy for your employees to use, and generate easy to understand reports when you have to process your payroll. If you're looking for all of this then you're in luck, Time Clock MTS provides you with a free attendance software download that allows you to track up to 3 employee's time and attendance information. You can track sick time and vacation time, track time spent working on projects, and generate any number of reports in just seconds. And you can do this forever, with no charge, with just two limitations. Limitation one is that you can only track three or fewer employees. Limitation two is that you can only install and run the software on one computer, so you cannot make use of the multi computer time clock features of Time Clock MTS.
So if you're looking for a free attendance software download then Time Clock MTS is probably exactly what you're looking for!
Posted by By Mark Nemtsas at 8:04 AM | Comments (0)
---
April 16, 2011
Barcode Attendance System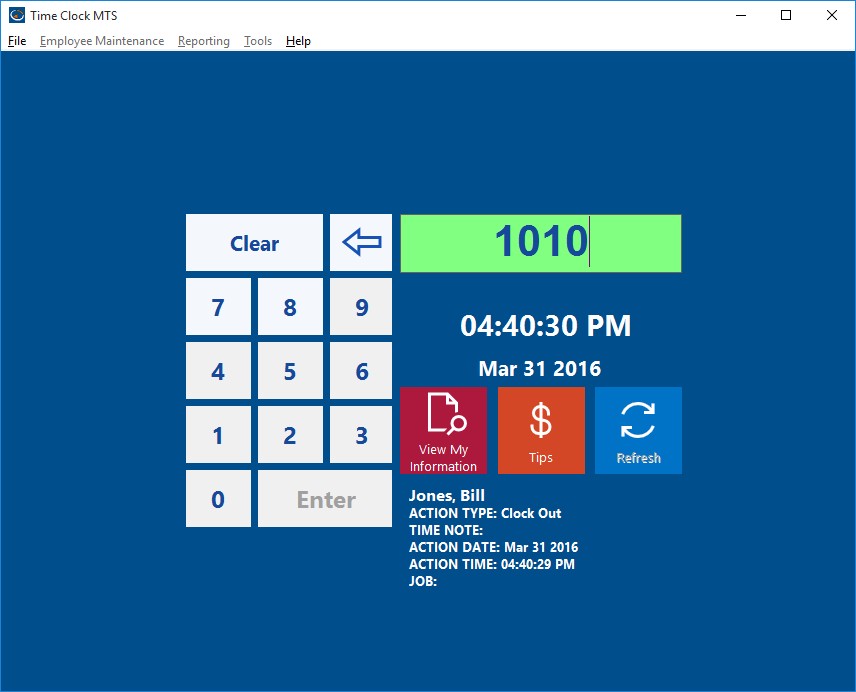 The Time Clock MTS Keypad Interface
Time Clock MTS was designed to be a flexible barcode attendance system for small and medium sized businesses. Here's what you need to do so that you can use Time Clock MTS as your Barcode Attendance System.
Get a suitable barcode reader. Time Clock MTS requires a barcode reader that has a 'keyboard wedge'. This means that it can be plugged into either the USB port or old style PS2 keyboard port of your computer and output characters to your computer exactly the same as a computer keyboard.
Configure the barcode reader to put a return character at the end of each scanned barcode. Most readers do this by default but you might need to change the settings of the reader via the configuration software that comes with it.
Install and run Time Clock MTS. Log into Time Clock MTS as the administrator and go to the Tools->Options->Interface Settings Screen.
Change the Data Entry Mode setting to "Keypad".
Save the changes.
Log out of the administrator mode of Time Clock MTS and you should see the Keypad interface of the software (see the screenshot above).
Log back into Time Clock MTS as the administrator and create your employee records in Time Clock MTS using the Employee Maintenance->Add New Employee screen. Take note of each employee's Badge ID
Get your employee barcode attendance badges printed. The data encoded should be each employee's badge ID and no other data. Make sure that the barcode encoding you use is supported by your barcode reader.
Now that you've configured the software, setup your barcode reader, and printed your employee barcode badges you're ready to start using Time Clock MTS as a barcode attendance system. All you need to do is run Time Clock MTS in keypad interface mode and have it as the active Windows application. As employees scan their barcode attendance badges the employee badge id will appear in the badge number field on the screen and the clock in or out action will be triggered automatically. Note that if you've got employee PINs or employee notes activated then your employees will still need to enter this information via keyboard or touchscreen.
If you require more detailed instructions on setting up Time Clock MTS as a barcode attendance system then please take a look at this article, Time Clock MTS and Bar Code Readers.
Posted by By Mark Nemtsas at 9:21 AM | Comments (0)
---
April 15, 2011
Sunday School Attendance Software
At last count nearly 50 churches were registered users of Time Clock MTS and we know that many of these use Time Clock MTS to track student attendance at Sunday school. The tracking requirements for a Sunday school are not too dissimilar to that needed for regular school attendance software but it's worth some effort looking at how to use Time Clock MTS as Sunday school attendance software effectively.
Customize the User Interface
Using the Interface Settings Screen customize the main user interface to suit the Sunday school environment. Your students will likely be offended to be called employees, so change those labels to 'students', you might like to change the 'clock in' and 'clock out' to less work oriented terms too. I'd suggest 'Arrive' and 'Depart'.
Create Jobs to Track Lessons or Classes
If you want to track your student attendance to various lessons then I'd suggest making use of the job tracking features of Time Clock MTS. So, if for example, you had a series of lessons on the various books of the New Testament you could assign each a code and have your students clock in and out with this code as they attend each different lesson. At the end of the series of lessons you could offer those students who missed out catch up sessions. Determining who missed out is very simple, just run the Job Time Report.
Create Departments for Each Teacher
If you run a larger Sunday school you might find it useful to track student attendance by teacher. To do this create a department representing each teacher and assign students to each department using the Manage Employees screens. You could then easily see a class list for each teacher and report on attendance to each teachers class by simply running Time Clock MTS attendance reports on a department by department basis.
Record Sunday School Attendance
Using Time Clock MTS to record Sunday school attendance is quite simple. You could do it in two ways. The first is to provide a central computer (or computers) and to have your students check in when they arrive for a class and then check out when they depart. Alternatively if your classes are smaller you might have the teachers take attendance on a laptop or similar and check each student in when roll is called at the beginning of class.
Report on Sunday School Attendance
If you make use of the Employee Status Report you'll find that it's a super quick and easy way to check what students are attending your Sunday school classes. If you're wanting to track lesson attendance and you've made use of job tracking then the various job tracking reports will easily give you the information you need.
Conclusions
Time Clock MTS wasn't really designed to be used as Sunday School Attendance Software, but as features have been added over the years it certainly has become flexible and useful enough to be used as such. With almost 50 churches currently using it in the role it clearly has something to offer with a customizable interface, flexible tracking options, and powerful reporting. All of this at a remarkably inexpensive price.
Posted by By Mark Nemtsas at 9:39 AM | Comments (0)
---
Time Clock MTS Review in Portuguese!
I don't read or speak Portuguese but Google translated this review of Time Clock MTS in Portuguese for me pretty well. The author seems to have some nice things to say about the software and certainly went to some effort with the review, taking the reader from software installation right through to the point of running reports. One thing the author didn't pick up on is that you can translate all the labels on the front screen of Time Clock MTS into any language you like, so he could have made it look a little more Portuguese with just a few seconds effort! You can do this on the Interface Settings Screen.
Posted by By Mark Nemtsas at 9:05 AM | Comments (0)
---
School Attendance Software
A quick browse through our customer database shows at the time of this post that 68 schools (not including colleges and universities) are using Time Clock MTS. It's safe to assume that some of these, at least, are using Time Clock MTS as school attendance software. I thought it would be useful to look at how you could configure Time Clock MTS to track and record the attendance of students within schools.
Configure the Time Clock MTS Interface
The Interface Settings Screen
Above you can see the Tools->Options->Interface Settings screen. You can use the 'Main Screen Labels' drop down box to change the text shown on the main screen of Time Clock MTS. We originally designed this to allow users to translate the main screen into other languages but we are aware that some users are using it to make the software more user friendly to their particular business. If you're using Time Clock MTS as school attendance software then you can easily make it more student friendly by changing these terms. The image below shows what the result can be when making the software more school friendly.
Time Clock MTS as School Attendance Software
Record Student Contact Information
The Manage Employees screens in Time Clock MTS allow you to record the student name, contact information, and alternate contact information. This is immediately useful if a school needs to contact a student, their parents, or notify someone due to an unexplained school absence.
Track Students by Class
Student attendance by class could be easily tracked using the departmental tracking features with Time Clock MTS. Simply create a department for each student class and then assign each student to the correct class using the Manage Employees screens mentioned above. You could then setup your Time Clock MTS clients to display only the students from appropriate class. Alternatively you could configure the student list to display in folder view and have an expandable list of classes and students that could be looked through very quickly and easily.
Track Daily Attendance
Time Clock MTS can be easily used to track the daily attendance of a student. Simply have them check in when they arrive for home class, or perhaps when they enter the school building.
Period Attendance
Using the Job Tracking features of Time Clock MTS you could easily configure the software to track student attendance by period. Simply create a job code for each subject and have students clock into each subject's period using the appropriate job code.
Report on Student Attendance
The Employee Status Report gives you a quick and easy way of reporting on student attendance. It's a simple matter to run this report and see what students are not at school for the day and then make contact with their parents to notify them of their absence. For more comprehensive reporting the Simple Attendance Report could be used to print off attendances by class or period and then distributed to teachers via noticeboard or email.
Conclusions
While Time Clock MTS wasn't specifically designed as school attendance software many of the features allow it to be used as such. The customizations available will make it easy to use for your students, while configuration options will easily allow you to track student attendance by class or period as well as allowing to store their contact details. Comprehensive and flexible reporting then allows for simple attendance tracking of your student population.
Posted by By Mark Nemtsas at 7:09 AM | Comments (0)
---
April 13, 2011
New Article Posted
I've just posted up a new article about using Time Clock MTS as time recording software. Please head over and take a look.
Posted by By Mark Nemtsas at 4:42 PM | Comments (0)
---
April 6, 2011
User Question : Times Not Appearing on Reports
We received this question from a user of the free version of Time Clock MTS.
Both employees punch in and out for each the morning and afternoon work periods. The problem is that now I'm finding that when I run a Punchcard Report for the period March 16 through the 31st, the first period, say from 8:00AM till lunch (usually around 1PM), does not appear. Only the afternoon period appears on the report. This does not happen for January or February. I have read on your web site that you suggest having shifts start at 12AM to avoid this, but to prevent early clocking in we have had the shift start at 8AM for quite a while without seeing this problem. I hope you can assist me with this.
It's not unusual for us to get emails from users reporting the same sort of behaviour. In every case it is linked to the First Day Starts At setting on the Payroll Settings screen. This setting actually changes the time at which Time Clock MTS considers a day to start. So, if you set it to 8:00AM then any time before 8:00AM is considered to be the day prior. The setting shouldn't be used if you just want to define when your shift begins or end and in almost every case shouldn't really ever be used at all.
Some time ago I covered in detail what you might use this setting for and why you almost certainly don't want to use it. You can read it all in the First Day Starts At Clarifications article.
Posted by By Mark Nemtsas at 9:41 AM | Comments (0)
---
User Question : Employees Changing Computer Time
Here's a question we just got from a Time Clock MTS user:
I seem to have another problem that I'm not sure we can solve. The guys that are using the time clock are pretty computer savy. I'm sure one of them changed the date on the computer that they sign in on - the time that is used is off of the that computer not the time on the "client" computerm(or my computer)... I have not "called" them on it yet and won't unless it happens again, but I went out and it is very easy to change the clock and clock in or out then change the clock back to the regular time. Do you know of any way to LOCK the time on the computer they are signing in on? Or any other way around it?
There's a few ways to prevent this sort of thing from happening, here's the solutions I suggest in the order that I consider best to worst.
Setup your Windows system to get the system time from an Internet Time Server and then put in place a system policy to remove permissions for your Windows users to change the system time.
Configure Time Clock MTS to get it's time from an Internet Time Server. We've recently setup our own dedicated time server, so we suggest you make use of it for maximum reliability.
Turn on the "Do Not Allow System Clock Changes" setting and require the administrator password when the software is started. You can change both these settings on the Security Settings Page. This will prevent users from closing Time Clock MTS, changing the system time and then re-starting the software.
Turn on the "Do Not Allow System Clock Changes" setting on the Security Settings Page. This is fairly insecure because employees can just close the software and change the system time and re-start the software.
Posted by By Mark Nemtsas at 8:27 AM | Comments (0)
---