Time Clock MTS Stand Alone Edition
A full featured employee time clock program for a single computer in your office.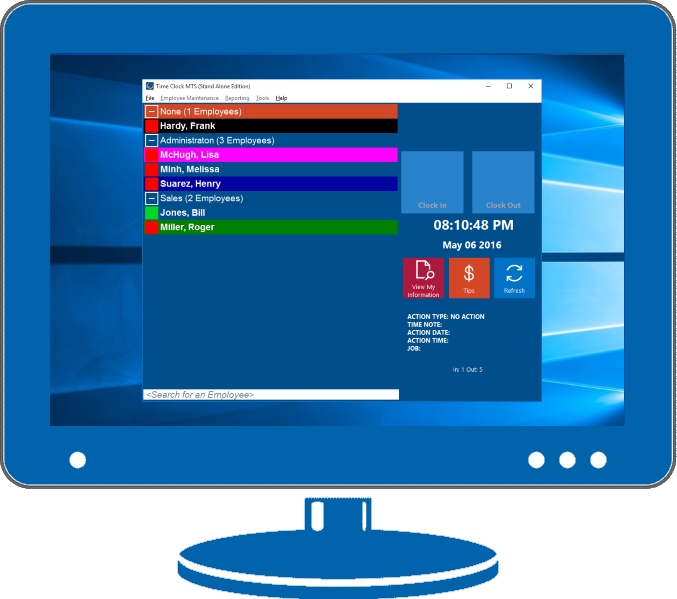 Track up to 500 employees

Timeclock MTS software has saved us hours of manual calculations and allows us to control our payroll more closely. It's simplicity belies its ability to track and monitor labor in different areas. It becomes as simple or as secure and full-featured as you need it to be.
Sylvan Learning Centers of Tennessee
Tennessee USA
"The fact that employees can clock in quickly and get to work straightaway is one of the primary benefits of Time Clock MTS."
Top Ten Reviews 2014, California, USA
Powerful, affordable, and Easy to Use
Affordable and easy to use, Time Clock MTS is great for small offices. It can be installed and configured in just a minute or two and runs on almost any Windows computer, including those still running Windows XP.
Able to track and report on the time clock information for up to 500 employees the Time Clock MTS Stand Alone Edition will grow as your business grows and allow you to track more than just time.  It can be as simple, or as complex, as you need.
Start Saving Time and Money NOW
Your employees will immediately save time because they can punch in and out from one computer.  No more writing in time books or filling out scrappy timesheets and handing them into the pay office.  And of course, you'll save time processing payroll because you won't be chasing those employees any more, and you won't be double entering time information into spreadsheets or into your payroll system.
The Time Clock MTS Stand Alone Edition includes dozens of reports which can be printed to PDF, or exported to other programs.  They show you the real time attendance information about your employees and are generated in seconds.
And we will take care of all the hard stuff for you, including overtime calculations and tracking of sick time and vacation time.  All in one system with no extra effort required on your part.  It doesn't get much easier than that!
Time Clock MTS
Stand Alone Edition
Buy Time Clock MTS
Purchase a registration key from our online shop. Only buy once, no monthly fees.