« August 2009 | Main | October 2009 »
September 16, 2009
Time Clock MTS Version 2.4.1 Released
Just one small fix in this release. The way weekly overtime was being calculated when a paid holiday was occurring in the same week wasn't quite correct. This is now fixed up. As usual if you've got any problems please contact me with your concerns.
Posted by By Mark Nemtsas at 10:53 AM | Comments (0)
---
September 15, 2009
Tracking Jobs in Time Clock MTS
A lot of businesses either want to track employee costs based on what tasks they're working on, or perhaps on a customer based project by project basis. In Time Clock MTS we call this 'job tracking'. This Time Clock MTS How To Article describes how to easily setup Time Clock MTS to track jobs and then leads you briefly through the process of how an employee would log their time against a job as they use Time Clock MTS.
Creating and Editing Jobs
Step 1 : Defining Jobs
Firstly log into Time Clock MTS as the administrator. How you log in as the administrator was covered in this Time Clock MTS How To Article. Once you've done this go to the Tools->Options->Job Tracking screen, where you'll see the screen above. To create a new job just click the new job button and you'll be shown the screen below.
Creating a Job
To create a job give it a unique numerical job code, give the job a name, and if you like a description. If you do not have your own job numbering system Time Clock MTS will automatically assign each new job a unique job code. You can also disable a job to prevent employees booking time to that job. This might be useful if you're just setting your system up, or your customer isn't paying you for that job anymore, or perhaps your internal budget for a project has been exceeded.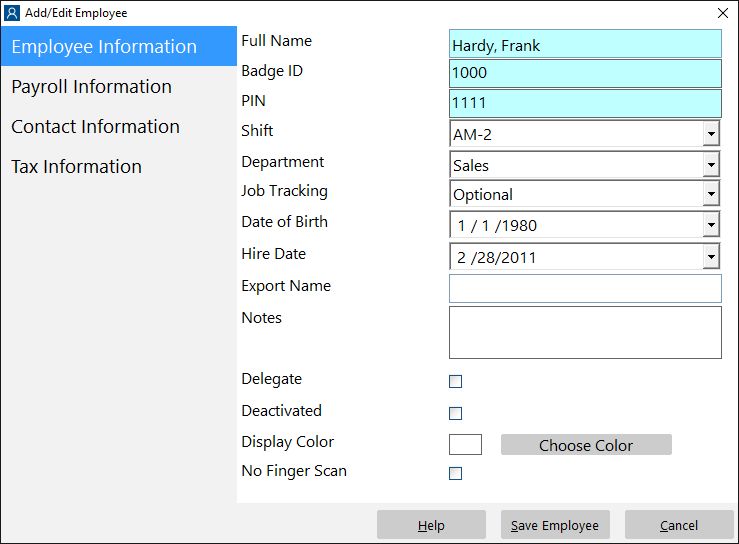 Employee Details
Step 2 : Deciding Which Employees will Use Job Tracking
The next step is to decide which employees will have to use job tracking and how they will use it. Select an employee on the employee list and go to the Employee Maintenance->Edit Selected Employee screen (which you can see above). On the employee information screen use the job tracking drop down box to define how an employee will use job tracking. They can either not use it, use it optionally (they can choose not to enter a job code when they clock in) or must use it (they must enter a job code when they clock in).
Entering a Job Code
Step 3 : Employees Entering Job Codes
Entering job codes for employees couldn't be any easier. When employees clock in they'll be shown the enter job code screen above. Employees need to enter the job code for the job they want to book the time to either via keyboard or via the numeric buttons on the screen (with a mouse click or via a touchscreen). Time Clock MTS will try to auto complete the job code for the employee and show the job details so that the employee is sure he or she is booking their time to the correct job. It would be very useful to have printed out the Active Job Report and have this next to your Time Clock MTS computers so that the employees have a readily available list of the jobs they can book time to.
Switching Jobs
Employees can quickly switch jobs by clocking out of Time Clock MTS (via either the employee list or keypad screens of Time Clock MTS). The screen above will be shown to employees where they can either clock out or switch jobs. If they switch jobs the enter job code screen will be shown again and the employee can enter a new job code and switch to a new job.
Step 4 : Reporting on Jobs
The Job Time Report provides the Time Clock Administrator with all the information they'll need to understand how time is being booked to jobs. It shows a break down of each job defined in Time Clock MTS, and how much time each employee has logged against each job.
Posted by By Mark Nemtsas at 2:59 PM | Comments (0)
---
Time Clock MTS Version 2.4.0 Released
A fairly major release today fixing up some minor problems and adding a major new feature, job tracking. I'll do a detailed blog entry and static web site page on job tracking so I won't cover it in too much detail here. Stay tuned for more details on how this exciting new feature works. A brief list of the changes can be found below.
Added job tracking. This included a new job tracking screen on the Tools->Options screen, two new reports (the active job and job time reports), a new employee setting (job tracking requirements), and two new data entry screens, the job code screen and the switch jobs screen.
Various changes to stop Time Clock MTS grabbing the windows focus when it is not the active window.
Fix to web cam image capturing when using the keypad interface.
Moved the error text box on the keypad interface, it was partially hidden by another text field.
When you're logged in as the administrator you can double click on an employee in the employee list and be shown the edit employee details screen for that employee.
In the next few hours I'll have some more information posted about the new job tracking features.
Posted by By Mark Nemtsas at 11:30 AM | Comments (0)
---
September 3, 2009
Time Clock MTS Not Calculating Time Correctly - Or is it?
I've had three Time Clock MTS users contact me in the last week complaining that their employee time cards did not add up correctly. As you can imagine I take these sorts of problems very seriously, correct time calculations are, after all, at the very heart of what Time Clock MTS does! In each case I asked the user to provide a days worth of time entries, including clock in and out times, their manual calculations, and the results that Time Clock MTS was reporting. In all three cases, the difference between the hours worked reported by Time Clock MTS and their manual calculations was the same for each day for each user. My worries that there was a problem with the software disappeared at this point.
For one user Time Clock MTS was reporting 20 minutes less time worked each day, for another it was 30 minutes, and for the last it was one hour. Some readers probably already know what is happening with the hours worked calculations. For those that do not, it's not a problem with the software, it is the way software setup that is causing the apparent discrepancy. In each case the users had automatic employee breaks setup to be deducted from each work day and they'd forgotten about it. This was causing Time Clock MTS to deduct some time from each day to account for breaks taken and thus reporting less time worked than just looking at the clock in and out time. It's an easy enough thing to do, and to be honest the first time someone complained I was momentarily worried myself!
It's something to be aware of, and if for some reason you're starting to think Time Clock MTS is reporting working hours incorrectly then please go and check your automatic break settings on the Tools->Options->Payroll Settings page.
Posted by By Mark Nemtsas at 1:47 PM | Comments (0)
---