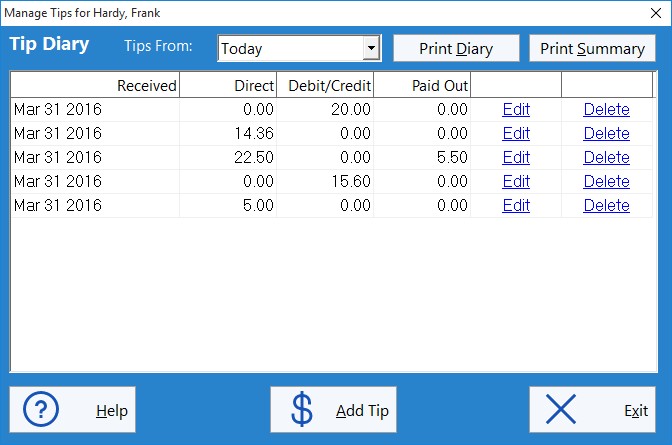 This Time Clock MTS How To Article covers how employees can record a tip using the Time Clock MTS employee tip tracking system.
The first step is to log in as the Time Clock MTS administrator and enable tip tracking. This was covered in the how to article How to Setup Employee Tip Tracking.
Employees will now be able to see the Employee Tip Tracking button on the time clock. To enter a tip they should click this button and they'll be shown the Employee Tip Diary which can be seen in the image at the top of this article.
The Employee Tip Diary is used by employees to add, edit or delete employee tips. To add a new tip employees must click the Add Tip button.


The Add Employee Tip screen (shown above) allows employees to enter details of a tip or gratuity that they've received. The details of the tip (date received and cash or credit amount) are entered into the fields on the left side of the form. Data can be entered via a keyboard or via the numeric keypad on the right.
If the employee has paid out the tip to other employees they should enter an amount into the Tips Paid Out field and then select the employee(s) paid out to from the employee list box.
When the employee is happy with the details of the tip to be added they must click the Save Tip button and the tip will be added the employee's tip diary.