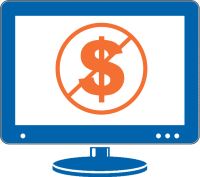 One of the more common questions I get asked is where the free version of our time attendance software can be downloaded, and what needs to be done to use it. Well it can be downloaded over on our free time attendance software page. All you need to do is download and install it. For the first 30 days of use you'll be in the normal trial period. However, once that is up the software will automagically convert to free mode without you needing to do a thing. That's right, no need to contact us and get a registration key, it'll just start working in free mode by itself. But, of course, there's a few restrictions to the free version that you should note.
Firstly, you can install it and use it on one computer. Basically that means that your employees will be punching in and out from the same computer that you'll be running your time clock reports from, and the same computer where you'll have to manage your software. If you wanted to use the software on more than one computer then you're going to need to purchase the Time Clock MTS Network Edition. The second restriction is that you can only track three employees while using the software in free mode. If you need to record time attendance for more than three employees but you're happy to have a single time clock computer then you'll have to purchase the Time Clock MTS Stand Alone Edition
So, if you're a small business, perhaps just starting up and want some time attendance software to track yours and your employee's time….why not give the free version of Time Clock MTS a go? It's easy to use, produces the reports you need and can grow with your business. Oh, and did I mention that it's free?