If you're just thinking about replacing your old manual punch clock or paper timesheet system with a computerized employee timeclock then it can be a little difficult to understand where it is that you should start. Given that a great employee time card system will save your business real time and money it's well worth the effort making the most informed and best selection that you can. You'll also find that a good system will be appreciated by your employees, will lower resistance to filling in timesheets, make for happier payroll staff, and less headaches for the business owner and manager. If you don't believe what I'm saying then take a look at what one of our customers had to say:

We moved from having employees manually enter their work hours to TimeClockMTS managing it all, and we could not be happier with how much it has saved us in time and resources required. It is an extremely easy to use program that saves time and money over trying to manually calculate employees' hours.
Because of the real benefits employee timeclock software can offer a business I thought it would be useful to compile a comprehensive checklist of questions that should be asked BEFORE choosing a new employee time clock system for your company. The requirements for any new system fall into four main areas. First, data collection requirements, second payroll requirements, technical and systems requirements, and finally, vendor requirements.
Data Collection Requirements
Data collection requirements cover HOW you want to collect your data and WHAT data you want to collect. Of course you're going to want to be able to collect employee time punches but a good time clock system should allow you to collect much more than that. For example, it could record employee tips and gratuities, allow your employees to request time off, and record time spent working on jobs. Here's a list of questions to ask of yourself when considering your data collection requirements:
Do you need biometric security?
Do you need job tracking?
Do you need your employees to leave you messages?
Do you need to leave your employees messages?
Do you need employee PIN security?
Do you need to collect data from multiple computers?
Do you need to collect data from multiple geographic locations?
Do you need to use barcodes, magnetic card readers or HID cards?
Do you need job tracking?
Can the system track employee tips?
Can employees request time off from within the system?
Payroll Requirements
The next key set of requirements cover HOW a time clock system will handle the data it has collected. Questions you should be asking yourself here are whether a software can handle the way you pay your employees overtime, whether it contains the number and type of reports that you require, and whether it can handle employee time off and sick time and accruals. You should also closely evaluate how your time clock administrator can edit and modify employee time card data. This can be a time consuming part of any employee attendance system due to employee tardiness, days taken off, and breaks missed (or breaks being too long).
Does the system include daily, weekly, and seventh day overtime?
Can the system handle hourly and salaried employees?
Does the system include the reports you require?
Does the system include public holidays?
Can the system handle sick and vacation accruals?
Can the Administrator add, edit, and delete employee time punches?
Can employees view their own timecard?
Can employees request time off from within the system?
Can the system round employee time punches?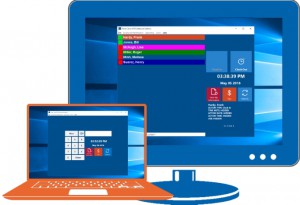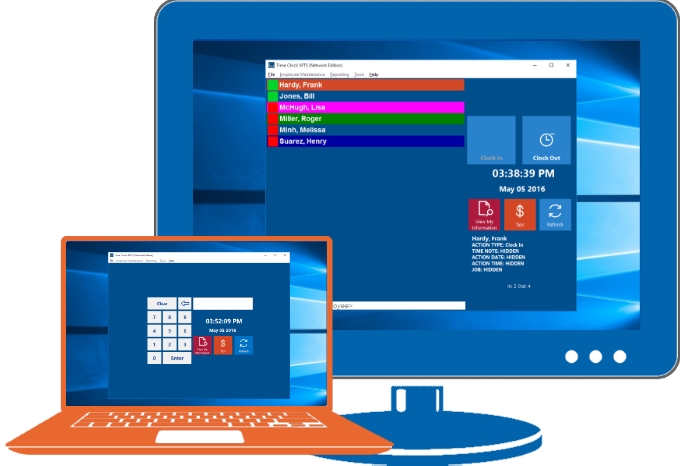 Technical and System Requirements
Of course there's no point choosing a timeclock software that runs on a Windows PC and you've got Apple computers. Or perhaps software that is only designed to run on the latest and greatest PC's and your computers are all 5 years old. Or perhaps you only want the software installed on your local computers and you're not interested in a web-based solution where all your time clock data is stored in the "cloud"? It's obvious when you're thinking about these sorts of things that technical and system requirements are a key consideration that you're going to have to make. Here's a list of technical and system requirements that you might like to consider:
Does the software run on your computers?
Do you need locally installed software or a web-based time clock?
Do you need a time clock for mobile devices like cell phones and tablets?
Does the software have an installer and uninstall program?
Does it require the latest computer hardware or will it run on older machines?
Can the system output payroll data to your payroll system?
Can you easily export data so you can run your own reports?
Does the system come with a free trial period?
Does the system require additional hardware such as keypads or time clock machines?
Vendor Requirements
When you settle on a particular time and attendance software package you're effectively partnering up with the vendor of that software for the long term. Because of this you need to ensure that the vendor has an established history of selling time clock systems, an established history of delivering quality support, and an established history of on-going development of their software. You're also going to want to make sure that technical support isn't going to cost you the earth and enter into your purchase understanding what the up-front and on-going costs are going to be. There's nothing worse than buying software and realizing there's a hefty annual subscription required just to keep the software working.
How long has the software been available?
How many companies use the software?
How often is the software updated?
Do you have to pay for software updates?
When was the last time the vendor updated their website?
Does the vendor have a blog on their website?
Does the vendor have user reviews and testimonials available on their website?
Does the vendor have comprehensive support resources on their website?
Does the purchase include technical support?
How much is on-going support for the software?
Does your license expire or does it need to be renewed?
Conclusions
Remember when you choose employee timeclock software for your business that you're committing to a system that is core to your business. You need to give the selection process careful consideration to maximize the benefits that a good system can deliver and to minimize any negative impacts on your business. Because of this it's well worth the effort building a comprehensive list of requirements that you and your company has for the new time and attendance system. I hope you find the requirements I've detailed above a good start to building such a list!