We've just had a request from a Time Clock MTS user who wanted to export their time clock data to Union Bank Online Payroll. Here's the steps that need to be taken to produce a data file suitable for importing to Union Bank Online Payroll.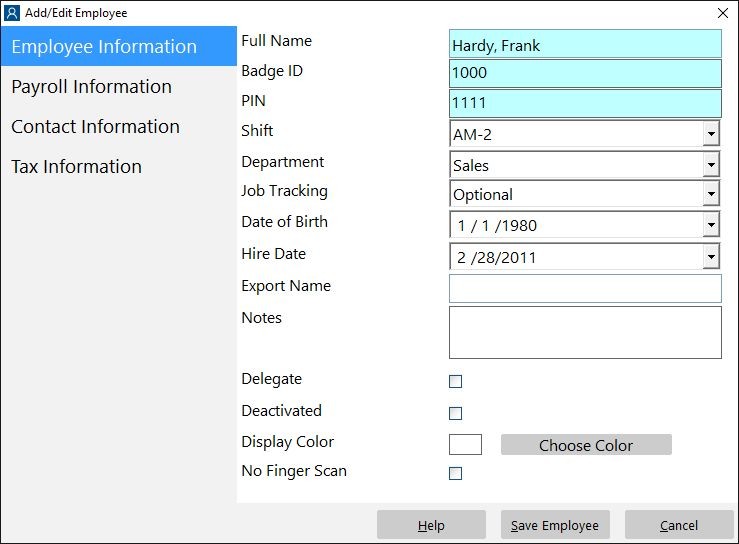 1. Map Employee Names and ID's Correctly
Time Clock MTS uses only one field for employee's names while the Union Bank Online Payroll system requires a first and last name. To get around this you must name your Time Clock MTS employees using the form LastName,FirstName. It is vital that you get the comma in between the last and first name. You can see in the image above that the employee is named Jones,Bill.
The second thing to ensure is that the Time Clock MTS employee Badge ID matches your Union Bank Online Payroll employee numbers exactly. If this is not done then the time clock data for that employee will not be able to be imported to your payroll system. Above you can see that the employee Badge ID is 1010, this must be the same as the Union Bank employee number.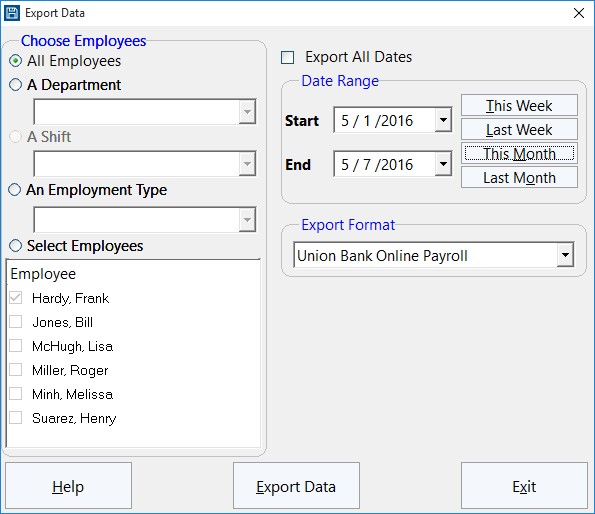 2. Export Data Using the Pre-Defined Union Bank Online Payroll Export Format
The next step is to actually export the data. This is done from within Time Clock MTS on the Reporting->Data Export->Export Data screen (shown above). Use the selection boxes on the left to choose what employee data you want to export. The date selection buttons on the top right allow you to select the date range that you want to export time clock data for. When you are happy with both the employee selection and the date range click the Export Data button to start the data export process. When the export is complete a Notepad window will pop up and you'll see your exported data (see the image below). You can now save this file with the correct name and file extension required by Union Bank Online Payroll and import it into your payroll system.