Time and Attendance Software
Recording your employee time and attendance data has never been easier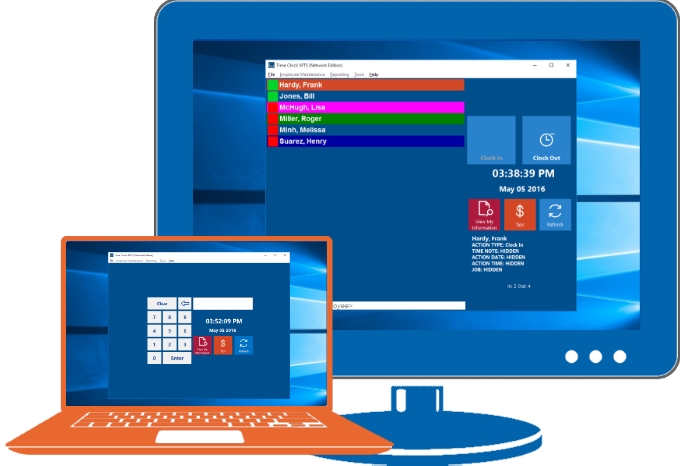 Stop wasting hours of your book-keepers time every month manually tallying up your time and attendance data. Get rid of your poor or non existent attendance record keeping systems and replace them with Time Clock MTS, time and attendance software that will save your business money.
Use Any Computer
You could be using any Windows computer in your office to record time and attendance information to a central location. You could be processing your payroll quickly and easily without having to manually total your employee timesheets.
Fast Reports
Time Clock MTS takes the "chore" out of running your attendance reports. You can run reports whenever you like and the data will be completely up to date. You will never have a better grip on your employee attendance data and payroll will take minutes not hours.
Drop Old Systems
Manual punch clocks, paper time cards, time off request forms, and unwieldy attendance spreadsheets will become a thing of the past. Time Clock MTS will replace all these systems, allowing your business to save both time and money.
Stop time and attendance fraud and buddy punching NOW
The US Department of Commerce estimates that one third of new business failures are directly attributable to employee theft and employee time clock fraud. Time Clock MTS will help you to eliminate attendance fraud using different several different approaches. You can start by using the software with employee swipe cards or barcodes, or even an RFID employee tag. Other security features include employee PINs, a 100% accurate time audit log and the ability to capture employee images via webcam when they clock in or out. Even better Time Clock MTS can integrate with a fingerprint scanner to really ensure that your employees are recording accurate attendance information.
Getting started with Time Clock MTS really couldn't be any easier. Just
download Time Clock MTS
and install it. Once it's installed you can watch a tutorial showing you how to get started with the software and create some sample data to get you up and running. The trial software is fully functional and includes all the
powerful time clock features
that you get when the software is purchased.
If you've got less than 4 employees and want to track your time and attendance data on a single computer then you can use Time Clock MTS for free without limitation or restriction. There's no strings attached either, we do not want your email address or a credit card number. Just download the 30 day trial and start using the software. Once the 30 day trial is up Time Clock MTS will start working in fully-functional free mode.
I am currently using the single user version of your software and I am loving it. It increases productivity and decreases all the headaches.
Kelty LanhamUniversity of San DiegoCalifornia, USA
Time Clock MTS
The Easy Time Clock
Buy Time Clock MTS
Purchase a registration key from our online shop. Only buy once, no monthly fees.