Employees Can Request Time Off
Using Time Clock MTS
Streamline and automate your business processes and save yourself time and money by having an employee time off request system integrated with your employee time clock software.
Employees can make time off requests using Time Clock MTS
Get notified when employees make new requests
Follow up on requests immediately
Create time punches for approved requests in just seconds.

We had a labor audit a few years back. The state requested our time sheet reports of our employees. They asked for weekly, monthly and yearly reports of different employees and it was not a problem to supply them with whatever they wanted using Time Clock MTS. Could not dream of using anything else.
Owner
Theresa Artigas Photography
New Jersey, USA
Watch a Short Movie Demonstrating Time Clock MTS
Automate Your Business
Time Clock MTS allows you to automate your employee time clock data collection and provides an integrated employee time off request system. Get rid of paperwork and needless overheads by streamlining and integrating your business processes.
Eliminate Wasted Time
You can eliminate time spent handling manual employee time off requests, getting approval for requests, and recording the time off in your payroll systems. Time Clock MTS wraps all of these into one neat package that will save your business time AND money.
Eliminate payroll errors and start saving money NOW
• No more double entering data into different systems
• No more human error trying to read paper time off request forms
• No more forgotten or lost time off requests.
Time Clock MTS will help you to reduce errors in your payroll when dealing with time off requests.
Try Time Clock MTS for FREE for 30 Days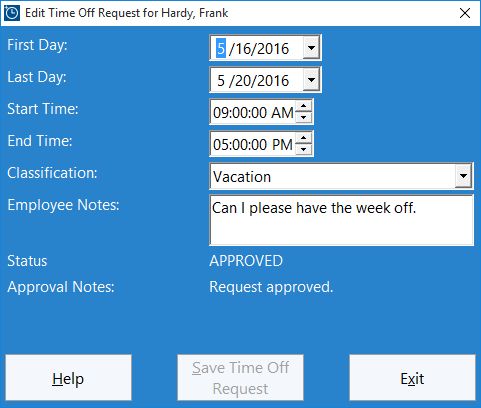 Time Clock MTS can be tried for free for 30 days without obligation or charge. And we don't want your email address or credit card either. Just
download Time Clock MTS
and
install it
and start collecting your employee time clock information right now.
Best of all there's no limit to the number of times your employees can clock in or out during the trial period, nor is there any restriction on using the other useful features that Time Clock MTS offers to help your business save time and money.
You could further streamline your business with integrated Employee Tip Tracking, track your job costs better with Job Tracking, and help to eliminate payroll fraud with Biometric Security.
Time Clock MTS
The Easy Timeclock System
Time Clock MTS
The easy to use fingerprint timeclock software with a fully functional 30 day trial.
Buy Time Clock MTS
Purchase a registration key from our online shop. Only buy once, no monthly fees.