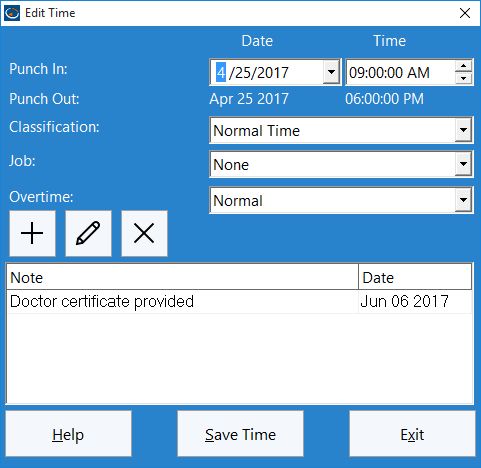 You can edit a single clock in or clock out entry from the Manage Employee Time Punches screen. The Edit Time screen allows you to adjust the time and date of the punch, as well as edit, add to, or delete notes from the punch.
Adjusting the Time and Date
Use the Date select box to change the date of the selected punch. Use the Time select box to change the time of the selected item.
Classification
Set the type of punch here, whether it is normal time, sick time, vacation time, or other.
Job
Set the Job you wish to book the time against here.
Overtime
For added flexibility you can adjust the way punches affect overtime calculations. You can either have times be subject to normal overtime calculation rules, force a time to be overtime, or force a time to be neglected from all overtime calculations.
Adding a Note
You can add a note to a time punch. Enter the note into the Note Text field. When you are done, click the Add button.
Editing a Note
You can edit an existing note by selecting it from the note list. Change the Note Text field and click the Save button to save the note.
Deleting a Note
You can delete a time note by clicking on a note in the note list and then clicking the Delete button.
Related Topics