« October 2011 | Main | December 2011 »
November 23, 2011
Time Clock MTS Version 3.2.8 Released
Version 3.2.8 of Time Clock MTS is being uploaded as I write this entry. This new release now includes the current job number on the Employee Status Report. It also fixes up an error that was thrown on various maintenance pages on the Options screen (namely the Departments, Employment Types, Holidays, Shifts and Jobs pages) when the Edit button was pressed immediately after adding a new item to the list. Thanks to the long time Time Clock MTS user who was able to put me on the right track to fix up these errors which I'd been trying to track down for quite a while!
Posted by By Mark Nemtsas at 12:54 PM | Comments (0)
---
November 18, 2011
New User Testimonials Posted
You may or may not know that we've got a time clock user testimonials page that we use to put up nice emails we get from happy Time Clock MTS users. Other than removing the authors names and company names we put these emails up exactly as we receive them. We got a couple of good ones this week including one (completely spontaneous) email from the operations supervisor of a very large agricultural resources company. We've been working with this gentleman quite closely for several months ironing out usage problems he had with the software as well as adding some reports that he wanted to see. Clearly he's happy with the result.
Posted by By Mark Nemtsas at 12:54 PM | Comments (0)
---
Using Time Clock MTS as an In/Out Board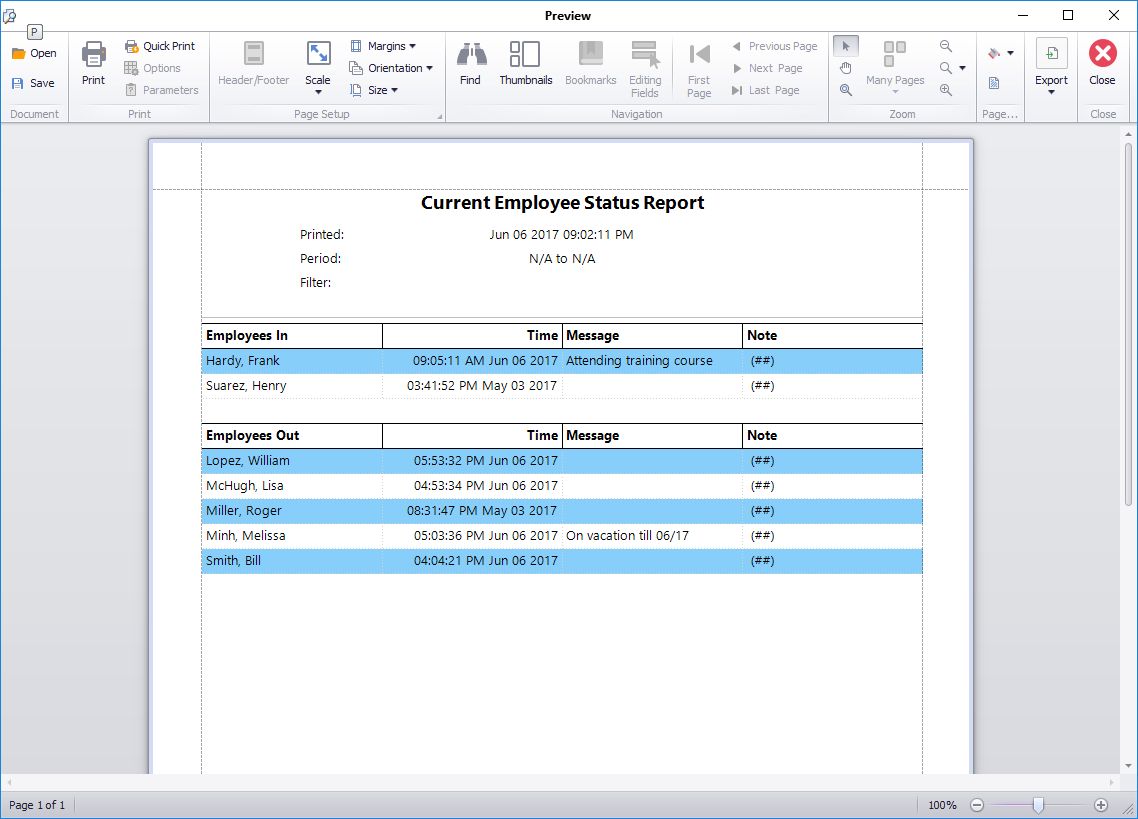 The Employee Status Report
Businesses have been finding ways for their employees to clock in and out for many years. From ID cards to finger prints, there are a huge range of options for small and large companies looking to get a device or some sort of software to keep a record of who is working and who is not. In/Out boards are an example of this type of device, and they are used in the work place for a whole variety of reasons.
1). An In/Out board provides easily accessible information about other employees. The contact details and working hours of employees are available to view, and this allows the business to operate in a much more smooth manner. The business can provide their customers with the contact details of employees and people that they may need to get in touch with about a certain aspect of the company.
2). It allows employers and other employees to know exactly who is inside the building in the case of an emergency. The In/Out board will quickly show the names of employees who are still on the premises, which means that other members of staff can alert everybody of the emergency and ensure that each person is safe.
While In/Out boards are very useful and are popular with large and small businesses, it does not change the fact that employees do not always find them easy to use. Physically manipulating the board can be extremely time consuming, and employees often cannot be bothered to use up so much time, especially if they have entered the building through another entrance where the In/Out board is nowhere to be seen. Employees will usually contact somebody else within the building, for example, the receptionist, who will change the board; however, even this can take up a lot of time if there are other tasks that the receptionist must complete.
Time clock software, on the other hand, is very easy for all employees to use when clocking in and out. Most businesses have stated that they find calculating payroll, sick pay and other figures very time-consuming. Software time clock systems will do all the calculations for you, so you can save time and do something else rather than spend several hours working out figures.
Time clock software like Time Clock MTS often provide you with support from forums and the product's website. Time Clock MTS is updated regularly to give you ease of use and to ensure that nothing is outdated, giving you the best experience using a time clock system. Only authorized PCs can use the software, so you don't have to worry about unauthorized sources accessing private information.
Time Clock MTS is a computerized time clock system that allows any number of employees to clock in and out with ease. The Employee Status Report is a feature of Time Clock MTS and is used by employers to see who has and who has not been in work over a certain period of time. You can view all the employees who are clocked in at a certain time and all the employees who are clocked out. You can also view the most recent employee notes that have been added to the system.
As well as being used by businesses for many other things, Time Clock MTS can be very useful and effective as an In/Out board.

Posted by By Mark Nemtsas at 12:36 PM | Comments (0)
---
November 8, 2011
Time Clock MTS Version 3.2.7 Released
A very minor release today that fixes up a couple of minor glitches with the biometric features of the software and adds some data logging to the fingerprint initialization process to allow us to track down the source of any problems. The complete list of changes is below.
A fix to a spelling error on the fingerprint driver installation screen.
You can no longer enrol fingerprints if no employee is defined.
Added data logging to the fingerprint enrolment screen.
Completely re-built the fingerprint_update.exe installer to be compatible with 64 bit versions of Windows. The installer now detects if the operating system is 64 bit or 32 bit and installs the correct driver set.
Posted by By Mark Nemtsas at 10:32 AM | Comments (0)
---
November 5, 2011
Time Clock Software without the Timeclock
Time clocks have come a long way since they were first invented in 1888. Many companies have become reliant on them in order to calculate employees' wages, vacations, overtime pay and many other factors. Nowadays, most businesses look for easy-to-use, hassle-free and cost-effective time clock systems that they can introduce into the workplace to avoid any possible mistakes with calculations.
How did traditional time clock systems operate?
First invented in the 19th century, time clocks were introduced to serve exactly the same purpose that they serve today - recording the hours that employees have worked and calculating the wages owed to each employee.
Traditional time clocks operated with the use of time cards. The cards had areas marked out on them and the employees would punch them to record the hours worked. The employee was the one responsible for doing it correctly; therefore, it was often very easy to make mistakes. As time went by, more advanced time clocks were devised, and these required even more advanced time cards.
By contrast, there were software-based time and attendance tools invented which did not require the time cards. Computers were used instead, and this type of employee attendance system soon became very popular with businesses across the world. The software-based systems immediately reduced the number of errors that were made by employees when clocking in and out.
Mechanical machines have now become a thing of the past for the vast majority of businesses, and computers are widely used in many places of employment. Most of the time and attendance tools that are used today only require employees to either log onto their account, swipe a card or scan their fingerprints.
Why are time clock systems often costly?
Most time and attendance tools are too costly for small businesses to afford. As a result, businesses with small budgets often don't have the money to pay for a good time clock system. Not only can the time and attendance tool itself be expensive, but you may also be required to buy additional hardware in order for the software to work. This may include devices that are needed to scan ID cards or fingerprints so that the employees can clock in and out.
What makes Time Clock MTS different?
Time Clock MTS is a modern, yet cost-effective time clock tool that is suitable for many types of business. Businesses with up to three employees can use the software completely free of charge. As smaller businesses usually have the smallest budgets, Time Clock MTS is perfect for companies with only a few employees. Larger businesses will have to buy the product if they want to use it for more than three employees; the cost will depend on how many employees the business has and how many computers they would like the software to be installed on.
Time Clock MTS will work on almost any type of computer. There is no need to purchase a recent, up-to-date computer - an older machine will work just as well. Additionally, you are not required to buy any other hardware or products; simply download the software and your employees can start clocking in and out! Test it out by downloading the software for the free 30 day trial before deciding to purchase.

Posted by By Mark Nemtsas at 9:17 AM | Comments (0)
---