« Time Clock MTS 2.2.9 and 2.2.10 Released | Main | Configuring a Second Time Clock MTS Administrator Computer »
April 15, 2009
Employees Viewing their Time Cards
If you're using the Time Clock MTS employee list interface then you can allow employees to view their own time cards. This blog entry will cover how you can setup the software to do this and how your employees can then view their information.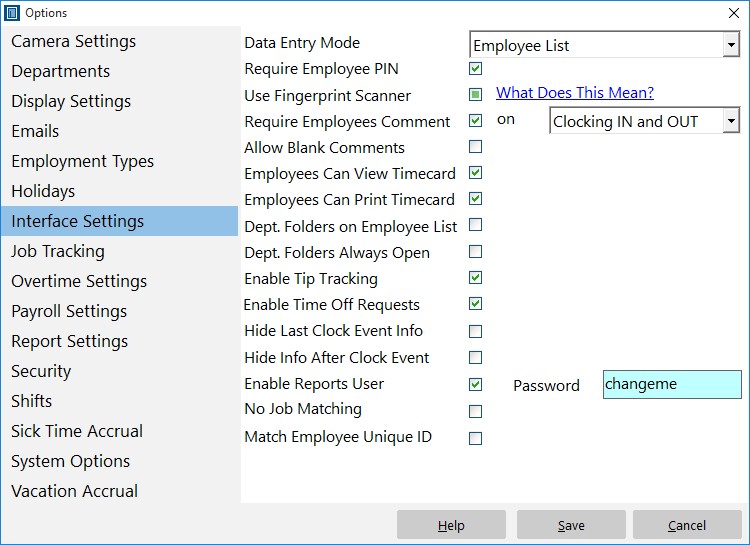 Interface Settings Screen
Setting Up the Software
Setting up the software to allow employees to view their time card information is very simple. Just log into the administrator software as the administrator and then go to the Tools->Options->Interface Settings page. All you need to do then is check the 'Employees Can View Timecard' checkbox. You can also allow them to print their timecard by checking the 'Employees Can Print Timecard' checkbox. Click Save to save the changes. Note that employees can only print and view their own timecards when you're using the Employee List Interface.
Report Configuration Screen
Employees Viewing their Timecard
If you've setup Time Clock MTS to allow employees to view their time card then they can do so very simply.
Have them select their name from the employee list.
Click the View Information Button and then the View Timecard option.
If you've got employee PIN's or employee fingerprint security turned on then the employee will need to enter their PIN or scan their fingerprint to view their time card.
The report configuration screen will be displayed. The employee can pick the date range from the top right, and the report they want to view from the report list. Note that the employee cannot pick any other employee from the list of employees.
When they're ready to view their timecard they just need to click the Create Report button.
Employees will then be shown their timecard for the period they selected. If you've allowed them to print their timecard then they'll be able to print their time card too.
That's all there is to it. A lot of companies like to make this information available to their employees because it saves a lot of questions for the payroll staff. If you didn't know Time Clock MTS could do this and your company would find it useful why not turn on this useful feature today!
Posted by mnemtsas at April 15, 2009 7:51 AM
Comments
Post a comment